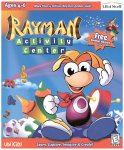 "Rayman is your ideal companion into a world of fun and discovery! Sing along with "The Magician," learn French with "Joe the Cricket," and develop pattern recognition skills with "The Toons." Led by the beloved hero, Rayman Activity Center offers a host of entertaining games!". (from box)
"Rayman Activity Center strives to awaken children to the joys of learning with a series of interactive games and activities. With 3 levels of difficulty to challenge and educate your child, this software will make kids (and parents) forget that they are developing valuable learning skills. (from box)
Activities include: (from box)
Paint and color in Betilla's studio, then print your favorite drawings!
Learn to assemble geometric shapes, then watch them come alive!
Improve pattern recognition skills with the Toons!
Develop letter recognition while helping the clowns!
Features: (from box)
Challenges children's creativity
Learn, explore, imagine & create
An ideal introduction to the PC for youngsters
Unique "Results" section allows parents to monitor children's progress
Developed by pre-school teachers and tested by children
Exclusive "Making of Rayman 2" digital video included
Minimum System Requirements (from box)
Windows 95/98, Pentium 90 Mhz; 8 MB RAM, 4x CD-ROM, Sound Blaster compatible sound card, 256 colors, mouse and keyboard.