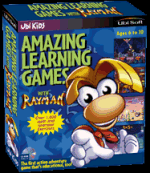 "The first action adventure game that's educational, too!"
"Knowledge is power - even for a superhero! That's what kids will find out as they take the role of Rayman, the lovable goofball who must read, count and spell as he battles his way through mind-bending landscapes on his way to rescue the Magic Book of Knowledge from the evil Mr. Dark. The challenges are so exciting, the adventures are so involving, the action is so intense, children will hardly realize how much they're learning." (from box)
It's an Action Adventure Game! Fun to be had! (from box)
All the exciting game-play of the original Rayman
3 knowledge adventures
12 activities
180 game-play levels
6 outrageous worlds
50 fascinating characters
Eye popping animation
It's educational too! Skills Developed (from box)
1,800 questions - 3 skill levels
Math
Grammar

Counting Skills
Numeral Recognition
Comparisons
Place Values
Adding and Subtracting

Spelling
Phonics
Word Recognition
Vocabulary
Word Classification
Minimum System Requirements (from box)
IBM compatible PC; Windows 95, DOS 6.0 minimum; 486 DX2 66 minimum, Pentium recommended; 8 MB RAM minimum, 16MB RAM recommended; 256 colors VGA or SVGA graphics card; 2x CD-ROM drive or better; Sound Blaster sound card or compatible; keyboard or joypad.