In Rayman's world, nature and people live together in peace. The Great Protoon maintains the harmony and balance of the world.

One fateful day, the evil Mr. Dark defeats Betilla The Fairy and steals the Great Protoon. The Electoons, who used to gravitate to it, lose their natural stability and scatter all over the world.
| | |
| --- | --- |
| | In the now unbalanced world, strange phenomena begin to occur: hostile characters appear capturing every Electoon they can find! The disappearance of the Great Protoon also neutralized all of Betilla The Fairy's powers, and she needs time to regenerate before she can help in any way. |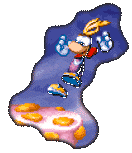 Rayman to the rescue! He must free the Electoons, defeat Mr. Dark, save the Great Protoon from its mysterious kidnapper, and restore harmony to the world.